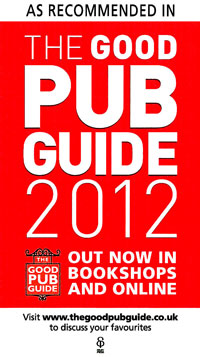 The Good Pub guide have included us in their 2012 edition in the 'Lucky dip' section for the first time!!!
We are very proud of our team who have achieved this success, however the most important thing for the Red Lion is to deliver great service consistently year after year and that is our goal. Thank you to our customers for putting us in the book so to speak!!
We will always endeavour to deliver a great experience for everyone visiting the Red Lion in Weymouth!!!
What they said …………..
This small bare-boarded 19th Century pub is one of Weymouth's finest public houses. Recently undergone a refurbishment, with friendly capable staff it offers wholesome pub food, utilising only the best local produce, a solid wine selection, an excellent choice of five well-kept ales including Butcombe Bitter, Jurassic by the Dorset Brewing Company and Hop Back's Summer Lightning, your pick of rums and fine whisky, a log fire and famously the wonderful front patio area with seating for up to 150 people. Friday and Saturday nights feature live music, so go along and sample the warm, friendly atmosphere of the Red Lion.