Weymouth's Seafood Festival is enjoyed at our Red Lion!!!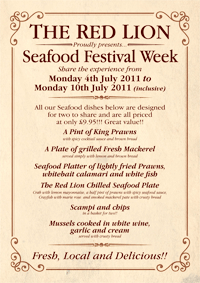 Weymouth's annual celebration of Seafood with its superb 'Seafood Festival' was enjoyed by locals, visitors and traders alike. Literally hundreds of people swamped the Red Lion to try our superb real ales and of course our seafood.
We had been celebrating all week to be fair and our seafood plates were a raging success as was the fresh barbecued mackerel and the Crab rolls and Prawn and Crayfish baps.
Jugs of Pimms were all the rage as the sun shone (at last!!!) for the two days.
The event itself is well worth attending so put it in the diary for next year as it is sure to be an even bigger event next time round.
Thanks to our entire team who worked so hard to deliver the food and drink to the many loyal fans of the Red Lion and indeed the festival itself.