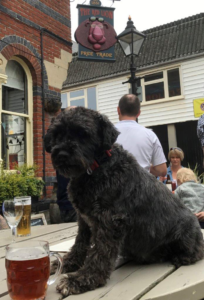 Dogs are welcome at the Red Lion around the terrace.
We welcome well behaved dogs at the Red Lion. Because the interior of our pub is so tiny they are welcome in all areas of our terrace and we are happy if they are safely tied up if you want to have a drink inside the pub.
There are four dog bowls with fresh tap water around the terrace and at the front door and a big jar of dog biscuits on the bar for them to enjoy while you have some seafood and a drink!!