Paddy Nash and The Happy Enchiladas delivered the goods here at the Red Lion!!!!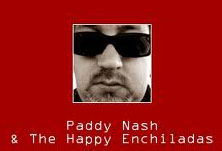 Enchilada Paddy delighted the Red Lion by agreeing to play in Weymouth before heading off to play a gig elsewhere in Dorset. Paddy and the Band were enjoyed by a great audience at the Red Lion as they played outside the pub as they are a nine piece outfit, so getting the Band in the pub, for those that know our pub, would have been impossible.
Had the weather been a little kinder then this would have been a massive event. Paddy and the Enchiladas were well received and enjoyed the night and already we hope this can become an annual event!!!
Paddy, one of Derry's best known singer- songwriters had appeared at Glastonbury this year after being invited to perform by Billy Bragg. Paddy, who with the Band have just released a new three track EP – performed as a solo artist at Glastonbury's Leftfield stage.