Celebrate 160 years of Weymouth's favourite pub!!!!!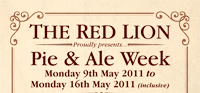 In recognition of the Red Lion's 160th birthday in 2011 we have planned a series of 'celebratory' weeks and weekends throughout the summer months for our loyal customers to enjoy!!
The Red Lion in Weymouth is an 'institution' …………a 'little gem' of a pub and what could be better than dedicating 'fun' weeks to food and drink that has made the Red Lion so famous.
We start the 'birthday' celebrations rolling in May with our 'Pie and Ale week'.
Then in June we have our very own 'Folk Festival' weekend on 3rd, 4th and 5th of June.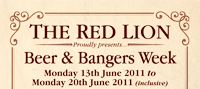 Also in June we really celebrate one of the Red Lions local food links with our 'Beer and Bangers' week. A great selection of sausages will be cooked that are supplied by our local sausage maker 'Pampered Pigs' of Bere Regis.
We then recognise the vital part Seafood plays in our menu and in Weymouth too with our Seafood Festival week culminating in Weymouth's own Seafood festival Weekend!! This will be a week in which we encourage the sharing of seafood together with six seafood sharing opportunities!!
For the first time in August in honour of our fame for sausages and seafood we are celebrating with our special 'Seafood, Sausages and Song' weekend with barbecues and live music through the weekend of Saturday 13th and Sunday 14th August 2011.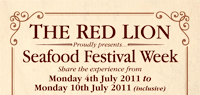 We sign off our Summer Birthday celebrations in September with our 'South Coast Food and Ale Week' in recognition of the two things that have been  most important to the survival of the Red Lion over 160 years!!!
During Autumn and winter we will be having celebrations as our 160th birthday year draws to a close and on New Year's Eve we will raise a glass to the next 160 years!!!