Red Lion: Tasty food in a revamped, maritime theme pub
A review from the Dorset Echo on March 19th 2012 – click here to view on Dorset Echo website.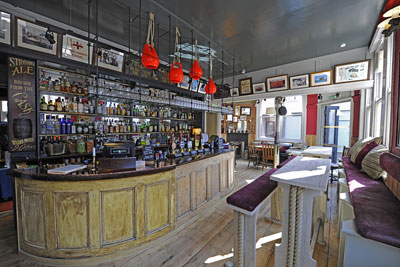 SUNDAYS are traditionally pub days and far be it from me to disagree, so shunning the allure of cooking and the inevitable washing up, my dinner partner and I decided to venue out in search of nourishment.
The Red Lion in Hope Square has recently been refurbished and we decided to find out what it was like.
The venue, which celebrates its 161st year as a pub this year, has been given a revamp inside with fishermen's buoys turned into lamps and fishing paraphernalia hanging from the walls.
My particular favourite was the lifeboat crew pictures from the past adorning the walls with pride and the amazing table in the corner which looked like it was made from an old capstan.
We chose a quiet corner in a seat adorned with loads of lovely comfy cushions and settled in for the evening.
The menu states: 'Local and proud' and we opted for a starter of pan fried prawns in garlic and chilli to share.
The prawns were huge and juicy. My only criticism would be that with my first bite I must have inhaled a chilli – it was very hot. However my dining companion didn't have the same problem, so maybe I got a rogue one.
For the main we opted for the 10oz rib eye steak with garlic butter sauce and the Weymouth sausages with mash, onion gravy and red cabbage. The sausages were huge and very tasty and offset nicely by the onion gravy which kept the dish moist without drowning it. I admit I also stole a taste of my friend's steak and it was delicious.
We decided we were in need of dessert, as even though the food was filling and the portions were generous, we were very hungry.
Also the mixture of desserts and cheese board options proved far too tempting and we opted for the Red Lion mess of meringue, black cherries and whipped cream, which came in a huge glass dish and my friend said was 'fantastic'. I had the black forest chocolate brownies and ice cream which were really lovely and moist, dark and chocolaty.
The service was good, friendly but not overbearing and the atmosphere was jovial, with a mixture of eaters and drinkers in the pub.
It's a great spot to while away a few hours in a beautiful, cosy and unpretentious surrounding – the food is top-notch and very well priced.
This is an independent review by a reporter without the co-operation of the establishment.
My Red Lion bill:
Pan fried garlic and chilli prawns with crusty bread: £4.95
10oz rib eye steak with garlic butter sauce, chips and tomato: £11.95
Local Weymouth sausage and mash with onion gravy and red cabbage: £8.95
Red Lion Mess: £3.95
Black Forest chocolate brownies and ice cream: £3.95
Pint of Guinness and rose wine: £6.90
TOTAL: £40.65