Proud of the recognition.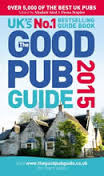 We are proud to announce that the Red Lion here in Weymouth has been included in three of the leading pub guides in 2015. Brian and the team have worked very hard since we took on the Red Lion five years ago to establish the pub as a pub to enjoy all year round. The Red Lion has been invested in twice since 2009 the latter restoration was just prior to the 2012 Olympic sailing events. We appreciate the support of our customers throughout the year such as the life boat crew who use the pub along with many local people and of course all the visitors to Weymouth who have helped us create a little institution. From Brian and our hard working team and our summer band 'Replay'. Thank you!!
The three guides are the Good Pub Guide, The Sawdays Guide and the AA Pub Guide…..we are still working on the Good Beer guide hoping they will recognise our commitment to real ale.