Olympic achievements celebrated with Team RL!!
After an historic two weeks for Weymouth and Portland and here at the Red Lion too we have so many memories of The 2012 Olympic sailing!! Including seeing four times Olympic Champ Ben Ainslie enjoying himself after becoming the best Olympic sailor of all time and he did it here in Weymouth yippee!!
Andrew Simpson and Iain Percy, silver medallists in the Star men's class, were joined at the Red Lion by Paul Goodison MBE who missed out on defending his Beijing Gold in the Laser class finishing seventh in Weymouth while suffering with a bad back. Paul has lived in Weymouth for six years.
While the boys enjoyed a much earned beer here at the Red Lion, a young lady sat quietly eating a Red Lion burger building her strength up for the windsurfing RS:X women's class climax the next day. Spaniard Marina Alabeu had a strong lead but still had to bring it home to win gold but after a Red Lion Burger a gold medal was easy pickings and she triumphed easily.
Nick Dempsey picked up silver in the windsurfing and can be seen waving from the bus as it passed the Red Lion!!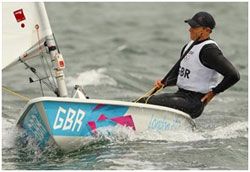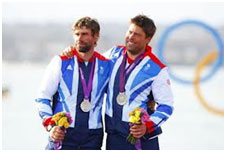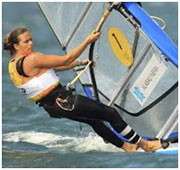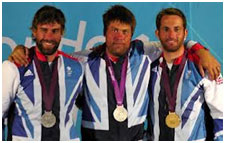 Supporters of Swedish sailors sing national anthem in Hope Square in Weymouth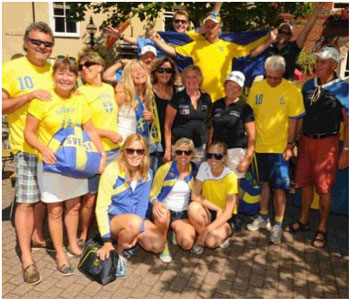 THE Swedish national anthem echoed around the Red Lion at Hope Square in Weymouth thanks to family members of their sailing team. Supporters of Swedish sailors Anna Kjellberg, Astrid Gabrielson and Sebastian Ostling congregated at the Red Lion pub to make the most of the Olympic atmosphere.
The patriotic group were joined by the sailors themselves who said they intended to make the most of the sunny weather in Weymouth. Jonas and Gerd Kjellberg said they were 'really proud' of their daughter Anna.
Mr Kjellberg added: "Anna has been sailing since she was really young and we are just so proud of her. "She is a little disappointed but we love it here in Weymouth. What a fantastic place."
Sailor Astrid Gabrielson, who raced in the 470 class, said: "I am feeling disappointed following my race but am so happy we have so much support from home here.
"I love it here in Weymouth especially as it is really good weather."
Spirits were high as the supportive crowd, dressed in Swedish colours and flags, serenaded passers-by with their national anthem.
Olympic achievement by the Red Lion team!!!!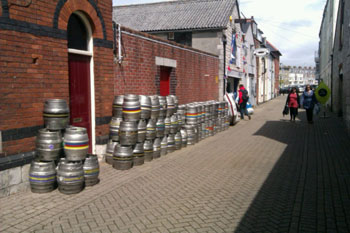 If there were gold medals for hard work serving hundreds…no…thousands of visitors at the sailing Olympics 2012, then look no further than our Red Lion team. As you will see from the picture, the barrels outside ready for collection say it all!!
The team, led by Brian and Kendra, have worked so hard in pretty hot conditions to ensure all the visitors to Weymouth got a great pint of cask ale with some tasty home cooked food from our kitchen team, headed by Steve. The atmosphere in Hope Square was electric and we are so proud the Sailing Olympics were held here. Everyone has given their all, so a big thank you to our team and to everyone who paid us a visit!!!
With just over a week to go until the Paralympics begin all is ready to give teams and supporters a warm welcome again……….Forgive the team if they look a little sleepy!!!
Photos coming in thick and fast!!!
As teams, fans and visitors arrive home after their trip to Weymouth for the sailing Olympics we are now receiving photographs!!! Here below is a lovely picture of the fabulous volunteer team who looked after everyone so well. They are described as the true heroes of the games and rightly so. Well done and congratulations to you all!!
Next up is the Finnish contingent putting up their flags in the pub as they celebrate great performances and a great shot of the Olympians whizzing past on their open top bus with medals glowing in the late afternoon sunshine!!
Team RL are presented with their gold medals!!!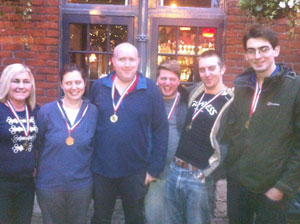 As a reward for their record breaking feats the Red Lion team were in celebratory mood as they were presented with their 'Gold medals' to recognise their Olympic Achievements during the 2012 Sailing Olympics.
New records were set during the two weeks for the Red Lion and the team really worked their socks off for the 2012 Olympics and then the Paralympics 2012 also.
They were sent off to Euro-Disney and Paris for two days while owners Tim and Mary held the fort with stoic Chef James and 'having a baby soon' Amy!! The team looked a little tired on their return but a good time was had by all.
Big thanks to all the team for working so hard during this record breaking period…you are heroes!!!!