A great summer at last!!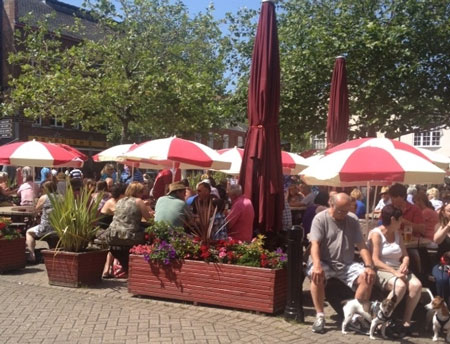 After the amazing August of 2012 with the sailing Olympics and all the joy and pride the sailing brought to Weymouth…not to mention all those visitors, we could be excused thinking a quieter year was ahead of us in 2013!!
The winter was long and harsh and we really were thinking 'here we go again' another summer without any sun!!! But we were proved so wrong. Not since 2006 has it been so lovely and the Red Lion with its 140 seats outside enjoyed many visitors too.
We had said when we planned our events and music outside let's hope for a warm sunny summer and we managed to get one. Seafood festival was the biggest yet having been cancelled on the Saturday in 2012 because of gales and flooding!!
The good news is that this was the year our landlord Brian bought a boat!! Maybe that's what has changed the weather………let's hope so.
Big thanks to all the customers that visited the Red Lion in 2013 and enjoyed our food and drink and we look forward to seeing you all in 2014!!
If you check our events page you will see all the music dates and big events as well as Bank holiday dates for 2014 so here's to a mild winter and another great summer in 2014!!
See you soon..